Marketing Automation - What Factors to Consider
We discuss your marketing automation platform options, the cost, and what you should consider before making an investment.
HUBSPOTTECHNICAL MARKETINGMARKETING AUTOMATION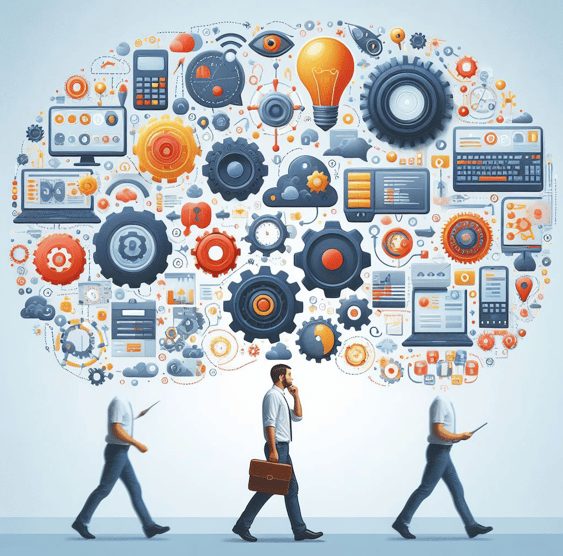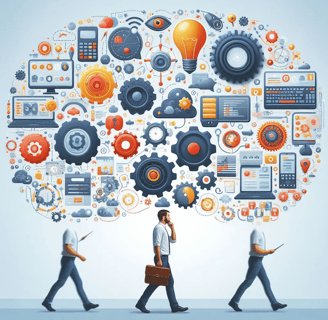 This is Part 2 in our marketing automation series. Part 1 was about why you need a MAP, and Part 3 will focus on which marketing automation platform is the best and why.
In our last blog, Marketing Automation Fundamental to Your Success, we discussed the benefits of using a marketing automation platform (MAP). In this second part, we will discuss what your marketing automation platform options are, the cost, and what you should consider before making an investment.
What are my Choices for Marketing Automation?
According to the official martech map for 2023, there are 381 platforms to choose from in the marketing automation and campaign/lead management sector. This is an increase of 80% since 2017, when there were just 212 options (chiefmartec). This does not account for other sectors that perform marketing automation functionality but have their own sector. For example, the email marketing sector has 267 entries and many of those perform marketing automation for email management. The marketing analytics performance and attribution sector has 141 entries. This is also a function necessary for marketing automation.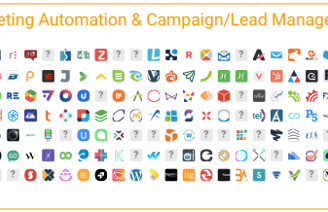 How do you Choose the Right Marketing Automation Platform?
The obvious answer is that it depends on your use case. Remember, our cross-country journey from Part 1 (even a bad metaphor deserves a second chance)?
If you are taking that cross-country trip in a vehicle, your needs and circumstances can be quite different than other travelers. A family might need a minivan, while a couple may want an energy-efficient hybrid car, and a single person might "need" that Lamborghini.
The same with marketing automation. There are a vast number of factors that need to be considered. A few of them are:
Cost

What do you Need it to do?

Learning Curve/Ease of Use

Scalability

Data Security

Customer Support

Integrations

rCommerce v. eCommerce

Marketing/Sales Alignment
We put the cost at the top of the list, because it is a universal concern of everyone at every level. While cost alone should not be the sole consideration, the reality is EVERY organization, from startups to Fortune 100, places cost very high on the consideration tree.
Certain platforms are designed for large-scale enterprises and their price reflects that (e.g. Adobe - Marketo & Salesforce). Others, while still suited for Enterprise level applications, historically have focused on the SMB market and come in at lower price points (e.g. HubSpot).
They ALL come with a "manufacturer's stated retail price," but don't be afraid to negotiate. Most of the more expensive marketing automation platforms are willing to discount the first year, and even the second year, until you have a proven ROI. This is especially true if you are willing to pay quarterly, semi-annually, or annually.
Pro Tip: You will never get a better price than when you are first migrating to a platform. If you are willing to agree to a three-year term, we have seen large marketing automation platforms give a 30% to 40% discount.
While cost is certainly a major consideration, it should not, however, be the key determining factor as to which platform is best suited to achieve marketing/sales success. The remaining factors should help you determine which marketing automation platforms are best suited to achieve those results.
The out-of-pocket cost to secure a license for a marketing automation platform may be the tip of the iceberg. Total Cost of Ownership will vary significantly from one platform to another.
Think of your marketing automation platform like a car. You have lots of choices, and you will make your decision based on pricing, performance, and features. For some, a Chevy may have the right balance, while others need the performance of a Lamborghini. Regardless of which vehicle you choose, you will still have the cost of providing fuel, maintenance, and learning how to operate the vehicle.
For marketing automation, the fuel is content, emails, workflows, etc. The costs associated with each of these activities will be fairly consistent between platforms.
However, the cost of maintenance (lead scoring, form/landing page creation, performance analysis, etc.) and learning how to operate the system may be dramatically different between the platforms. Many enterprise-level platforms require a larger team and a greater learning curve to set up and manage.
If you have a small team, stick to a platform, such as HubSpot, which can be easily learned and managed.
It is important you understand the actual Total Cost of Ownership before you select any marketing automation platform.
What do you Need it to do?
For ANY marketing automation platform, strategy trumps everything. Before you select ANY marketing automation program, decide what your marketing strategy will be. Here are just a few questions you need to consider:
Will you be engaging in social media marketing, account-based marketing, email marketing, etc?

What type of content you will be generating? How will it be distributed? Do you need a tool that will help you identify the best keywords?

Will your website be personalized and provide contextualized storytelling based on a given persona, and where they are in the buyer's journey?
Discuss your specific use cases with the vendors who make it into your final cut. Have them give you a demonstration of how others have used their platform for that particular use case.
Learning Curve/Ease of Use
Every marketing automation platform has a unique process and methodology. Familiarity with one does not extend to others. If you have not used the platform before, it will require you to roll up your sleeves and learn the best practices for that platform. So, factor in how long it will take to onboard and learn the platform.
Factors to consider are:
What onboarding support does each platform provide?

What does their customer support look like?

Will the implementation be done by an internal team or by an outside agency?
If an internal team will be responsible for setting up the marketing automation platform, they will need to have prior experience. This is not the type of implementation that you want to learn on the job. Any platform can be daunting to set up if this is your first time, but the inexperienced person will miss out on both best practices and strategy implementation.
We have been referred to many customers who failed to set up their platforms properly. They were frustrated that the marketing automation did not work for their company, when the reality was, it was not set up in a manner that allowed for their success. Spend time, effort, and cost to make sure your marketing automation platform is set up to best practices for your particular industry and sales process.
Keep in mind that not all platforms are designed to be used by a small internal team. Many of the enterprise-level systems are best managed by larger organizations that can provide dedicated staff who are trained to be full-time power users. If you are going to set up and manage these platforms yourself, plan on budgeting for the internal staff or using an outside agency for full-time platform management.
PRO TIP: While HubSpot has gotten more robust and complex over the years, once it is set up to best practices, a small in-house team can effectively manage the day-to-day operation of the platform successfully.
"Knowledge is Power," and that statement could not be more true than with a marketing automation platform. Even if you buy the Lamborghini of the industry, it is not of any value if the operator does not know how to drive it properly. Most platforms provide both training in functional operation and the best practices to optimize performance and sales. Two companies that have done an outstanding job are HubSpot and Listrak.
HubSpot has hundreds of hours of training available and more than a dozen different certification programs that go beyond the mere operation of the platform and provide education in marketing strategies and techniques.
Listrak has similar training on both platform operation and education on marketing strategies and techniques for those engaged in eCommerce.
The security of your data is a fundamental issue you MUST consider when selecting a marketing automation platform. Even large enterprise-level companies have found they are vulnerable to hackers. Mariott International (2020), Solarwinds (2020), and Crypto.com (2022), are examples of companies that should have known better, yet failed to secure their clients' data, resulting in billions of records being leaked (Information Age).
The risk of failing to secure data can be severe, with civil and regulatory liability. While the United States does not have any centralized federal laws, there are provisions in the United States Privacy Act, the Safe Harbor Act, and others that ensure the privacy and protection of data.
The European Union has adopted more formal laws through the General Data Protection Regulation (GDPR), which provides for companies to ensure that they're compliant with the new requirements of the GDPR before it becomes effective on May 25, 2018. Companies that fail to achieve GDPR compliance before the deadline will be subject to stiff penalties and fines.
Not every marketing automation platform provides the level of security you need to protect your business and customers.
For GDPR compliance, marketers should first obtain consent from the prospects to collect and use their personal data, and second be able to demonstrate how they comply with the principles of the GDPR.
Choose a marketing automation platform that has assessed the requirements and can demonstrate to you that their data protection does comply with the principles of GDPR. Here are two examples of platforms that have taken affirmative steps to ensure compliance: HubSpot and Marketo.
It is important that you understand your duties for GDPR compliance, and the platform allows ease of compliance.
Most platforms will offer some combination of support, be it a live chat, ticketed, or by phone. Be certain you understand which support options are available, especially if you are not skilled in the platform. HubSpot has one of the more exceptional technical support departments of any software provider. There are HubSpot User Groups (HUG) around the country that hold events, during which information and ideas are freely shared.
The goal of any business is to grow, and switching platforms is costly, time-consuming, and represents a loss in short-term productivity. Therefore, the platform you choose should, at a minimum, be able to meet your growth projects for the next five years.
According to the Martech replacement survey of 2023, marketing automation remains the most replaced marketing and sales platform. One of the principal reasons given is, "We outgrew it and wanted to build more complex campaigns" (Martech).
Scalability not only means that the platform can handle the volume of the growing business but also the types and sophistication of your marketing/sales efforts.
Remember, strategy trumps all considerations. If the platform has limited functionality, it most likely is not the right choice. The last thing you want is the capacities of the platform dictating the type of engagements you can do to grow the business.
When reviewing options, it is important to understand how the cost of the license for the marketing automation platform will change as you grow.
If you have expectations of a quick growth curve, negotiate that into the initial agreement. Most marketing automation platforms are willing to give significant discounts before the initial signup. Once onboard, you are less likely to receive the same considerations.
Many clients are surprised to learn that, once they purchase any marketing automation platform, there is still a series of considerations that need to be made. Your marketing automation platform needs to pull and share information from software that is used by other departments. There are also a number of integrations that need to be made to enhance the functionality and performance of the marketing automation platform, such as eCommerce software, analytics, accounting, video, live chat, etc.
If your business is an established organization, you need to decide how all your existing integrations will work on the platform you are considering. Most marketing automation platforms have native integrations with the more common partner solutions. When this is not the case, you will have to find an existing third-party tool (e.g. Zapier, Bedrock Data) or have a technology provider build the interface. In the latter circumstance, you will want a marketing automation platform that has an easy-to-use application programming interface (API) (e.g. HubSpot API interface).
For those not familiar with rCommerce, it is short for relationship commerce. While every sale has a foundation based on building a relationship, rCommerce are those that traditionally have high value – high consideration purchases, where the transaction is done offline. eCommerce are online transactions that can be either B2B or B2C.
The buyer process is significantly different for rCommerce and eCommerce, requiring different recommendations for marketing automation platforms.
Marketing/Sales Alignment
Marketing Automation Platforms aren't just for marketers anymore. It was not too many years ago that the role of the Marketing Department was to market, and the Sales Department's role was to sell. Over the years, the lines between those functions have blurred to where you need to continue marketing to customers to facilitate resales and upsells and to turn them into brand advocates and evangelists.