The Great Marketing Experiment of 2023/24
For 365 days, we will post content on all relevant social channels and test the results.
MARKETINGSALESGREAT MARKETING EXPERIMENT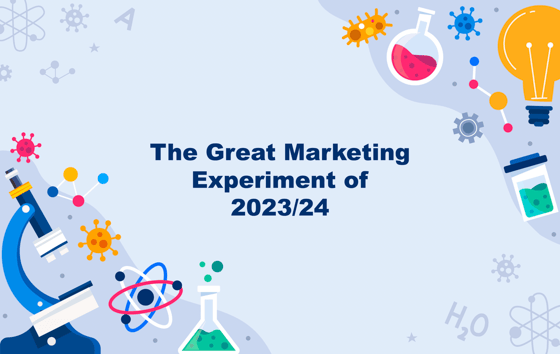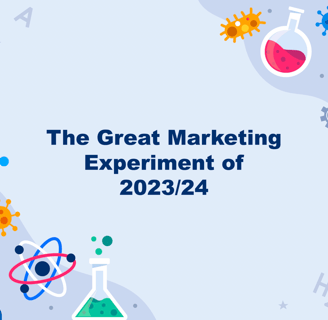 When asked what is the best way to generate organic traffic, marketers often say that content is king and distribution of that content is queen, and she wears the pants. From all the years that I have worked in this industry, I have no doubt that is true. But simply knowing that is not enough. What type of content works best? Where should that content be shared to resonate with your audience?
Of course, the answers to those questions depend largely on who your targeted buyer personas might be. A CEO of a Fortune 500 corporation will need to see totally different content and needs to be exposed to it differently than a teenager looking for the latest video game to buy. So, obviously, before you create any content, you need to drill down and understand the pain points, interests, and concerns of your target audience. You need to further understand how they like to receive their content (e.g. ebooks, long or short-form videos, etc.) plus where they go for information, entertainment, and third-party verification of facts.
As a marketing agency, our targeted buyer personas while, diverse, are clearly understood by us (at least we believe they are). We understand that mid-level management may make the initial search for a solution and have a great deal of influence on the final decision, but the decision-maker is usually a more senior-level employee, if not the owner or CEO. In the past, it was fairly easy to understand where these individuals would search for information and what type of content they would rely upon.
For B2B clients, there are some obvious places to distribute your content, for example, LinkedIn, associations connected to your industry, authoritative referral sites, and of course your own website. However, the social media world has gotten far more complex with a multitude of social media channels that were originally considered entertainment now cluttered with B2B content or ads. The reason is obvious, even CEOs spend time on TikTok and other "entertainment" social channels. Often connecting with them on those channels is easier because your prospect is relaxed and open to new ideas, and frankly, to some extent, it is still a surprise to see high-quality B2B content on these sites.
Welcome to the Great Marketing Experiment of 2023/24! What is this great experiment? It is to answer once and for all what the most effective social media channels are and what is the best content to attract, engage, and convert B2B prospects. If this sounds like something you would like to know, read on.
How Will the Great Marketing Experiment of 2023/24 Work?
For the next 365 days, Prevail Marketing will be sharing content across a number of the most relevant social channels where we believe that B2B middle-managers, influencers, and decision-makers go for information or entertainment. EVERY day we will be sharing a variety of different types of content that is meant to appeal to this target audience. We will be sharing information that the collective team at Prevail has learned over the course of our professional careers, best practices, tips, tricks, and strategies to grow your business. Content that we believe will be beneficial to the targeted personas. We will be conducting podcasts with industry leaders and experts where they will share what is working and any secrets they have learned over the course of their careers.
The format of the content will vary depending on the channel, so we can ascertain what type of content (e.g. infographics, eBooks, gifs, images, etc.) resonates best to attract and engage this audience. Of course, for certain channels like YouTube and TikTok, it will always be video content but we will be able to see if longer-form content prevails over short-form videos.
What Channels Will be Tested?
While it would be impossible to test every social media channel, we are going to be aggressive and try to focus on both the established platforms and those that are up and coming. To that end, we will be posting on the following each and every day.
Are we crazy? Have we completely lost it to have the audacity to think we can generate content for 365 days across all of those channels? Of course we are!
How Will we Measure Success?
The first success milestone is simply getting through 365 days with quality content distributed on each channel all while keeping our sanity. While we would love to end up with a million subscribers or followers on each channel, that is not our goal nor is it realistic. Marketing and sales content is not a thirst trap and is highly unlikely to garner widespread interest. Whatever social media following we get is really just that proverbial cherry on top of the sundae. We want to measure and base our success on two levels.
The first is traffic back to our website or landing pages. This can be both direct traffic from one of our social channels or just a significant increase in organic traffic because we pleased the Google Gods with our inbound marketing prowess. However, no intermediate key performance indicators (KPIs) like website traffic or leads should ever be considered a success. Marketing/sales success can only be defined as significant increases in customers, revenue, and profitability. We will measure the ultimate success on that criteria alone.
How can you Learn the Results?
We plan to be very open and share the lessons we learn from this experience including what type of content and what social channels have performed the best. We will share this information on an ongoing basis on both our blog and within the social channels. If you want to learn what works and what doesn't, please subscribe to our blog and follow us on those social channels that you currently engage.
Each month we will share a recap of our experience and results.
We would love your participation and feedback. Please engage with us, and let us know what you think about the content we are creating. We have thick skins (we are marketers) so feel free to share if you disagree with our content. If it is presented in a professional manner, we would love to engage in an online conversation.
Since we will be doing content 365 days in a row, we might need some ideas and suggestions. If there is a topic that interests you, please share, and we will put that in the rotation. If there is an expert you would like us to interview (including yourself), please contact us. If you would like to provide content for a day across the platforms, let's talk. Finally, as I think I will get tired of saying, "Like, subscribe, comment, and follow."