Buyer Personas - the Foundation of Strategic Marketing
This is part three of our Marketing/Sales Success series.
PROCESSBUYER PERSONA REPORTDISCOVERY AND ASSESSMENT PROCESSBUYERS' SENTIMENT REPORTBUYERS' JOURNEY REPORT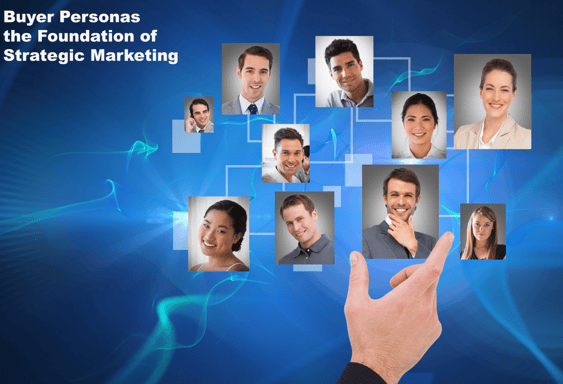 In our previous blog post, we explored the methodology we use to establish buyer personas. This process is significantly more meaningful than making up a ficticous persona from your imagination or the internet. It is all about learning real information from those who became your clients and those who didn't.
Why is it Important to Interview all the Relevant Customers and Lost Opportunities?
Companies, that have exceeded revenue goals, conducted qualitative interviews of both customers and lost opportunities 82.4% of the time. (Cintell, 2016)
The Buyer Persona Institute established three rules when creating buyer personas (we added the fourth):
1. Focus ONLY on characteristics that tell you how to persuade the buyer.
2. Consider demographics during the final stage of persona development.
3. Build an additional persona ONLY when the differences impact buyers' decisions.
4. Focus on the steps they take to learn about solutions and how they found you.
To further emphasize these points it really doesn't matter if the persona is male or female, old or young, educated or not. If the SAME messaging at the SAME point in the buyers' journey compels the buyer to act and/or move further down the sales pipeline, they are the same persona.
Build Insightful Personas
Who are the primary decision-makers and their influencers in the buyer journey? In order to create relevant content and design effective lead-generation strategies, our first mission is to identify and understand the most important buyer personas and the critical elements that they need to see to take that next step of engagement.
Most buyer personas generated by other agencies are simply an artificial construct that someone has pulled from their imagination or the internet. They tend to focus on the background, demographics, and personality traits. This information is virtually worthless. It is only accurate for that specific person and does not tell you any meaningful way of how and where to communicate with them.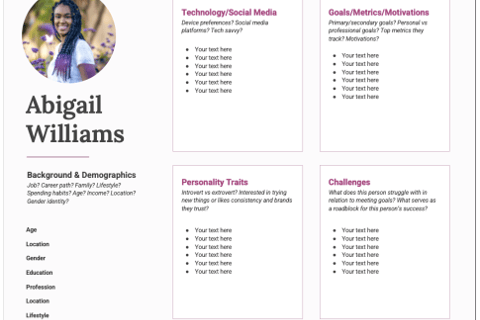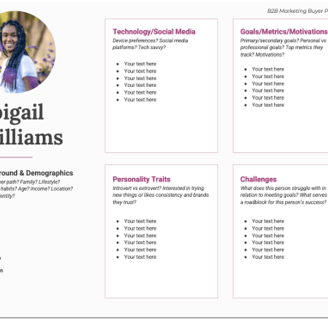 The information collected by this type of persona will not give you any insights or clues about how to market and sell your product or service. The following slides are courtesy of the Buyer Persona Institute and show the type of information and how you present a Buyer Persona Report.
In the example below, "Stan" serves as the representative for every person you interviewed who shares that same persona. We prefer to avoid an actual name as the persona may be a man or woman. We used generic names such as Decision Maker – B2B SaaS Company or Internal Influencer - B2B SaaS Company.
The top two slides are the slides that summarize your findings for:
Priority Initiative

Success Factors

Perceived Barriers

Places of Engagement

Buying Process

Decision Criteria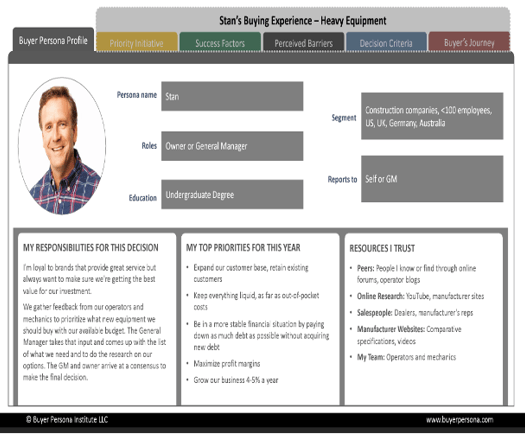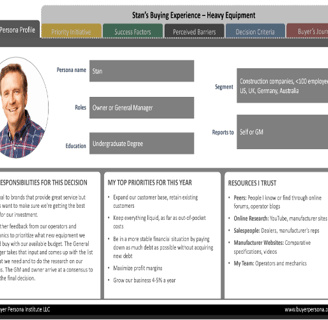 The first (header slide) gives the following critical information.
The Role

Authority (Who he reports to)

Decision-Making Responsibilities

Top Priorities (Pain points/Concerns)

Resources – Where he goes for information and third-party verification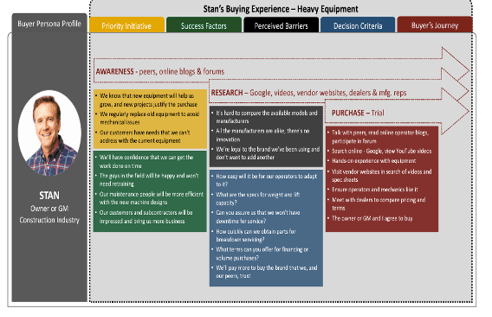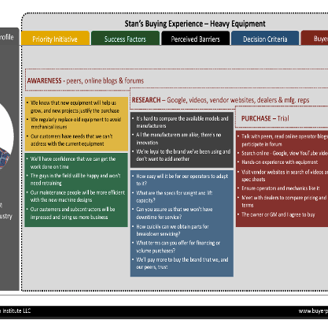 The subsequent slides drill down on where they are involved in the process. In this example, the person is involved in the awareness research and purchase phases. We documented:
The pain points

The benefits of the solution

Decision-making factors

Research conducted and source
Then, proceed to provide support and documentation for EVERY statement you put on the previous slide. In EVERY case, there should be quotes you pulled from your interviews that substantiate your classifications.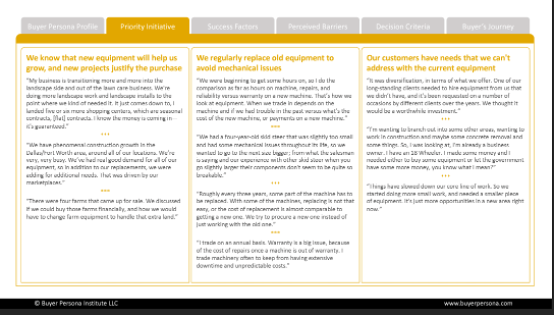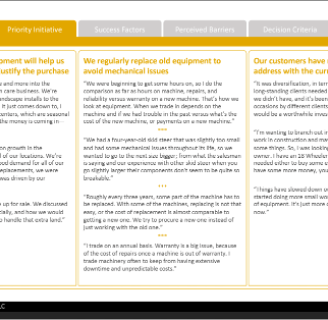 If the interview is done properly, there will be statements that will be the foundation of what content is created, the messaging, and where that content is deployed for each stage of the buyers' journey.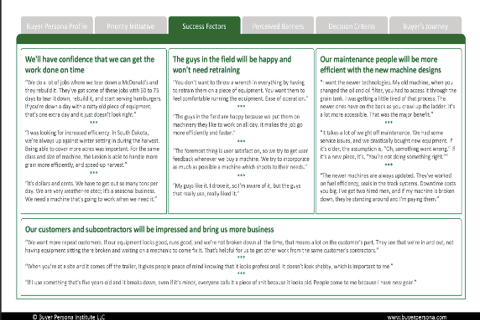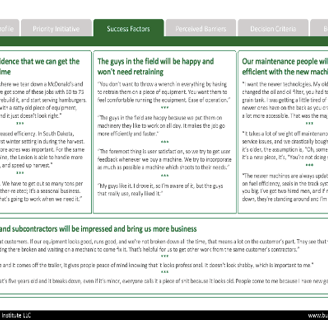 Make sure you differentiate between personal success factors and company success factors described by the interviewee.
A personal success factor might be not looking foolish to his superiors. The company's success factor might be increasing productivity and reducing costs.
We then continue the analysis by looking at the major sentiments or common themes that may arise throughout our interviews and arrange our report around those key sentiments. Included in each section are select quotes that help illustrate the nuances of each sentiment.
The Buyers' Sentiment Report simply consolidates the information for each persona and shares it in a single chart.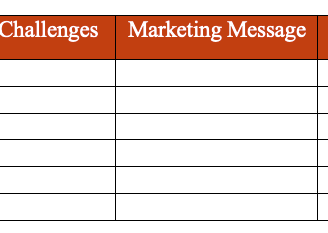 The Buyers' Journey Report looks at all the information you compiled and begins to identify which personas own that stage, the messaging they need to learn, and where they go to research or find that information. This will form the bedrock of how you develop your marketing strategy and content, and how you will interact with prospects at each stage of the buyer's journey.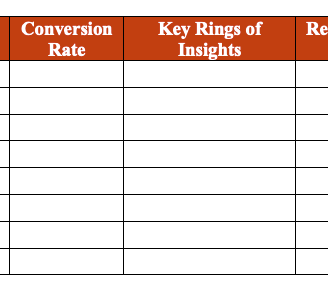 Using your Buyers' Journey Report will allow you to think creatively about new content and channels that persuade the most critical buyer personas and eliminate ideas that could distract you from your goal -- to focus your time and budget on investments that help buyers choose you.
Remember for each stage of the buying process, there may be more than one key persona involved. In that case, add another line to ensure that the information you record is unique to that particular persona.
Always remember that the Buyer Persona information will change over time due to competitive factors, the economy, or a host of other reasons. We recommend that you have a program to continuously update and refine your buyer personas every quarter.
"Companies that exceeded lead and revenue goals were 7.4X as likely to have updated their personas in the last 6 months."
There is no question that Prevail Marketing has one of the most intensive onboarding programs of ANY growth agency. We pride ourselves in knowing as much about your industry, company, product, competitors, and customers as you. These reports allow us to do that:
Snapshot Report

Engagement Brief

Strategic Buyers' Insight Report

Buyer Persona Report

Buyers' Sentiment Report

Buyers' Journey Report
While our process can seem arduous when compared to the typical agency, it serves as the foundation of every activity we do for you. It is the beginning of a long and successful relationship built on being your true partner in your growth and success.
Please subscribe to our blogs if you want to keep up with tips, tricks, and strategies we have found can propel a marketing/sales program to success. In later blogs, we will be sharing more about how we craft a detailed omni-channeled marketing program that will take place over the course of our engagement and why we track over 400 KPIs each month.